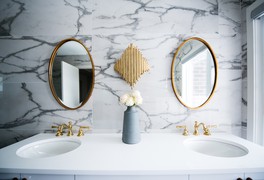 Bathrooms are often the places homeowners strive to improve and incorporate designs that express their personality. The good news is that the newest bathroom trends are here to save the day as with easy steps anyone can refresh and renew their bathroom along with their mood and psychology. If you don't know where to start, sit back and enjoy this article because it will inspire you with the biggest trends for the bathroom and tips from the best interior decorators of our platform to transform your bathroom and welcome the new era.   So what are the latest trends for your Bathroom?    1. Wood    Chances are that your wooden windows are painted black, brown, or white and this is just perfect. Why? Because you can incorporate more wood in the room and make it modern and ready for the autumn. For example, modern tiles that mimic natural wood are the perfect addition for any trendy bathroom this time of the year and it will continue to be a top trend for a long time. Plus, it is much cheaper than real wood and a perfect addition to your bathroom as You can put it wherever you please, from the floor to the walls and the natural patterns will fit perfectly to any bathroom embracing a rustic touch. Lastly, if you lack storage space from having small cabinets, you don't need to worry. With the help of a tradesperson from our platform, you can build wooden shelves to store anything your heart desires while being aesthetically pleasing.   2.  Industrial style      Industrial style is nothing new to you if you are an interior decoration enthusiast. As seen in many loft designs, the industrial style works wonders for any room but our insights from our decoration experts say that they will match perfectly for your bathroom in 2022. You can paint your walls in a dark gray or use forged cement to create an industrial aesthetic. Forged cement can really help in the long term as it does not stain easily, is really easy to use, is fully waterproof, and lastly does not change color through the years. Lastly, you can add metal touches to the room by creating small shelves as we said above, or add details in the light bulb or your cabinet.  3. Natural and eco-friendly stone cladding PVC cladding especially when used with stone can highlight the decoration of your bathroom and offer a sense of luxury. In the interior wall cladding with fake stone, you can choose the installation of solid fake stone panels. There are several colors and designs on the market that can meet your needs and expectations. Moreover, you can choose solid panels that are ready-made pieces that are placed on the wall and look as if each piece of stone has been placed one by one on the wall and offer a complete picture.    4. Marble Tiles If you want your bathroom to look clean and tidy, white marble and finishes will do the job. Marble is a high-end material that is popular for creating stunning luxurious bathrooms. The bad news is that actual marble is very expensive to add in walls and flooring but interestingly, you can get porcelain tiles with the look of natural marble and elevate your bathrooms' looks without having to pay for the full price. The choices are many and you either do a whole marble look for both your floors and walls or stick to one of the two and make the design you want. If you still don't know what exactly would fit your bathroom, don't worry, our technicians will help you make the best and most economical choice for you.    5. Textural Tiled Finishes   Mosaic will never be out of the bathroom trends and with these multi-colored mosaic tiles, you can add color, depth and make your bathroom interesting by incorporating texture. You can choose many areas to cover like your floors or walls and can either go with small highlights or cover your bathroom entirely with mosaic. Lastly, an excellent choice is to line your shower's enclosure with mosaic. Even if this is the only place you want to incorporate mosaics in the room, it will definitely still elevate your bathrooms' aesthetic while also being a practical option as mosaics have the same characteristics for strength, durability, and hygiene as most larger tiles.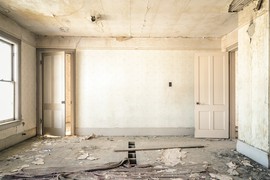 Renovating a house is an exciting project that can transform your living space and increase its value. However, it's important to have a clear understanding of the potential costs involved to effecti…
About YourPro
We are the No1 Marketplace for Tradesperson Services having serviced more than 195.000+ jobs with more than 3.500 reviewed tradespeople.
You describe the job you want to complete
In a short time, one or more tradespeople will contact you regarding your job
You choose the right tradesperson for your needs
The professionals of YourPro
Average rating of tradespeople
Each tradesperson has completed more than 50 jobs
+2 new tradespeople every day